Religious fervor drives elephant slaughter
mongabay.com
September 14, 2012
Legal ivory trade failing to protect elephants




The legal ivory trade is failing to protect elephants which are being slaughtered en mass across the African continent to meet demand for religious trinkets, argues a new investigative report published in National Geographic by Bryan Christy.

The report, researched and written over a three year period, looked at supply and demand the elephant ivory market. It found that substantial quantities of ivory is being used to make religious trinkets including "ivory baby Jesuses and saints for Catholics in the Philippines, Islamic prayer beads for Muslims and Coptic crosses for Christians in Egypt, amulets and carvings for Buddhists in Thailand, and in China—the world's biggest ivory-consumer country—elaborate Buddhist and Taoist carvings for investors," according to a post on National Geographic News.

Ivory is coming primarily from the black market. The cost for elephants is high: a conservative estimate puts the slaughter at 25,000 elephants in 2011 alone.

The article argues that decisions made by the Convention on International Trade in Endangered Species of Wild Fauna and Flora (CITES), the organization that sets policies to regulate trade in wildlife products, have played a critical role in facilitating elephant ivory trafficking. Specifically, one-off ivory sales sanctioned by CITES have buoyed demand for ivory products and confused the marketplace into the legality of elephant ivory.

The Environmental Investigation Agency (EIA), a group that campaigns against the elephant ivory trade, says Blood Ivory reveals the "enormity and extent of the illegal international trade in ivory" and shows that "the CITES ivory-trading mechanism is profoundly flawed, empirically unsupportable and has itself become a major driver of poaching and the illegal international trade in ivory." The group is calling for a re-evaluation of CITES' policies.















Related articles

Yuppies are killing rhinos, tigers, elephants

(09/07/2012) Yuppies, not elderly rural consumer, are driving the trade that is decimating some of the world's most iconic endangered species, including tigers, elephants, rhinos, pangolins, and bears, said experts meeting at a workshop in Vietnam.


A new tool for taking on elephant poaching: DNA forensics

(08/08/2012) One of the difficulties plaguing law enforcement and authorities when it comes to tackling elephant poaching is determining where the ivory originates. Now, research published in the journal Evolutionary Applications, has found a new way of tracking ivory back to wild elephants populations: forensic genetic studies.


Elephant slaughter continues in Chad, another baby rescued

(08/07/2012) Elephant poaching persists in southwestern Chad as poachers slaughtered more elephants on August 3, the second time in less than two weeks.


Dozens of elephants massacred in Chad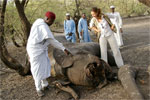 (07/26/2012) Poachers killed at least 30 elephants in southwestern Chad during the early hours of Tuesday, July 24. During the night, Stephanie Vergniault, president of the organization SOS Elephants, described on her Facebook page how a group of armed horsemen chased a herd of elephants with "war weapons near the SOS Elephants camp in the Chari Baguirmi area. After daybreak, the SOS Elephants team counted 28 carcasses, most with missing tusks. The exact number of carcasses with missing tusks is unclear because the team was afraid to stay and investigate further due to the presence of the poachers hiding on the other side of the Chari River.


Tracking elephants in Cameroon to mitigate conflict with locals

(07/09/2012) Elephant conservation is imperiled by poor spatial planning, according to a new study in mongabay.com's open access journal Tropical Conservation Science. Tracking two elephant matriarchs in and around Bénoué National Park in Cameroon, scientists found that the herds spent over half their time outside of the park, highlighting the potential for human-wildlife conflict as elephants are known to raid fields.


Poacher known as 'Morgan' behind devastating massacre at Okapi Wildlife Reserve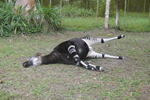 (07/05/2012) Officials have pointed to an infamous elephant poacher known as 'Morgan' as the head of the murderous attack at the Okapi Wildlife Reserve station in the Democratic Republic of the Congo (DRC) late last month. The attack by Morgan and his crew left seven people dead, including two wildlife rangers. The poachers also shot dead 13 captive okapis at the headquarters, which were considered ambassadors for the imperiled forest. One okapi remains alive, but injured and conservationists are not optimistic about its survival. UNESCO and the the NGO Fauna and Flora international have issued an emergency appeal to raise $120,000 dollars within two weeks for the victim's families as well as for rapidly rebuilding the station.


Gabon torches their ivory stock as poachers attack okapi reserve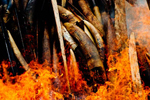 (07/02/2012) Last week, the west African nation of Gabon committed over 1,200 ivory tusks and carvings to the fire. The act, which was meant to send a strong signal to illegal wildlife poachers across Africa, came only a few days after militia poachers stormed the Okapi Wildlife Reserve in the Democratic Republic of the Congo (DRC). The assailants killed 13 okapis and six people, including two wildlife rangers, in retaliation for a crackdown against poaching and mining in the protected area. Poaching has reached epidemic levels in Africa due to increasing bushmeat consumption and a rise in East Asian demand for black-market ivory and rhino horns.


Elephant numbers halved in Central Africa in 5 years

(06/08/2012) Elephant numbers in areas surveyed by the Wildlife Conservation Society (WCS) in Central Africa halved between 2006 and 2011, hinting at the carnage wrought by the surging commercial ivory trade and demonstrating a need to boost protection efforts, said the Bronx Zoo-based conservation group.


Banning ivory sales to China could save elephants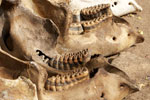 (03/24/2012) Although the international ivory trade has been banned since 1989, last year was the worst ever for elephant poaching, and this year has begun little better as reports come out of Cameroon of hundreds of elephants slaughtered in a single park. What went wrong? According to a new briefing by the Environmental Investigation Agency (IEA), approved legal auctions of ivory by the Convention on International Trade in Endangered Species (CITES) to Japan and, especially, China has fueled, rather than abated as promised, the illegal trade along with mass deaths of elephants across Africa.


New reports from inside Cameroon confirm grisly mass killing of elephants (warning: graphic photos)

(03/14/2012) The International Fund for Animal Welfare (IFAW) has recently returned from Bouba Ndjida National Park in northern Cameroon, where at least 400 elephants have been slaughtered since mid-January. IFAW is the only international organization that has assessed the situation within the park.


Elephant poachers kill unarmed wildlife ranger in Kenya

(01/16/2012) Abdullahi Mohammed, an wildlife ranger, was killed in the line of duty in Kenya this weekend by elephant poachers. A ranger with the conservation organization Wildlife Works, Mohammed was shot by poachers in Wildlife Works Kasigau Corridor project, a REDD program (Reduced Emissions From Deforestation and Degradation).






Original source:
http://news.mongabay.com/2012/0914-elephant-slaughter-ngs.html
Copyright mongabay 1999-2014