Environmental journalist investigating illegal logging murdered in Cambodia
Jeremy Hance
mongabay.com
September 13, 2012

Aerial view of illegal logging in Cambodia. Photo by: Paul Mason USAID/Cambodia/OGD.



Less than five months after high-profile forest activist, Chut Wutty, was killed in Cambodia, an environmental journalist, Hang Serei Oudom, has been found slain in the trunk of his car, possibly murdered with an ax, reports the AFP. Oudum, who worked at the local paper Vorakchun Khmer Daily, was known for writing stories on epidemic of illegal logging in Cambodia, often linking the crime to business people and politicians. The car and body were found in a cashew nut plantation in Ratanakiri province, an area rife with logging.

"Before he was murdered, other journalists had warned him not to write critically about the forest crimes," Pen Bonnar, with The Cambodian Human Rights and Development Association (Adhoc), told AFP. 44-year-old Oudom also wrote about traffic accidents and protocol, according to his editor.

Oudom was last seen by his wife Sunday evening when he told her he was going to a meeting and would be back shortly. He was found Tuesday with wounds to the head that police say are consistent with an ax or baton.

An investigation into the murder is ongoing, but earlier today police detained a military police officer, Captain An Bunheng, for questioning. Ten other people are said to be under question.

"There is a lot of money at stake. These are well-equipped, well-financed groups of individuals," Ou Virak, president of Adhoc, told the Australian Broadcasting Corporation (ABC). "These illegal loggers will certainly do what they can to protect their interests, including killing of activists trying to stop them."

International group, Reporters Without Borders, has urged police to discover if the murder was at all linked to Oudom's coverage of deforestation issues. Oudom shared many similarities with Chut Wutty, who was killed in April escorting two journalists to an area known for illegal logging. Both men spent their adult lives trying to shine a light on a lucrative and illegal industry that is decimating Cambodia's forests and robbing communities of their livelihoods. Chut Wutty's death still remains shrouded in mystery with several narratives put forward and no official investigation; many fear the investigation into Oudom's death will also fizzle out.

The role of economic land concessions in Cambodia forest loss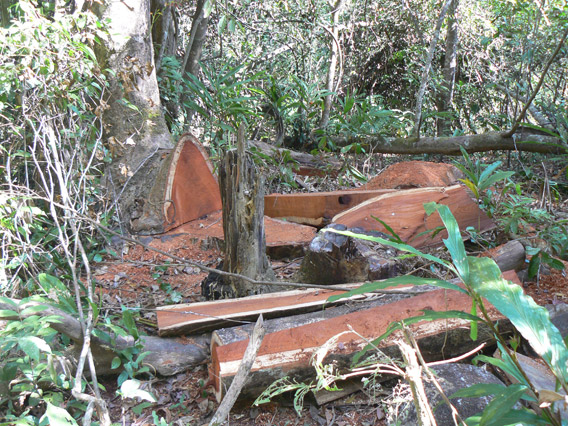 Illegal logging of rosewood, a highly sought luxury timber, in Virachey National Park. Photo by: Greg McCann.

Between 1990 and 2010, Cambodia lost nearly a quarter (22 percent) of its forest cover, an area larger than Haiti. As of 2010, around 57 percent of the country was covered in forest, but only 3.2 percent of this was primary forest. But not all of this is connected to illegal logging; deforestation in Cambodia is often government-sanctioned.

The government has recently handed out numerous 'economic land concessions' to foreign corporations that allow them to cut forests ostensibly for agriculture, even in protected areas. Rising protests by locals over the practice, as well as the death of Chut Wutty, pushed Cambodian Prime Minister Hun Sen to suspend any new economic land concessions, although several have since been granted. In all, according to Adhoc, two million hectares (4.9 million acres) of Cambodia—comprising over 10 percent of the country's total land area—had been handed over to corporation for logging, mining, agriculture, and other development through economic land concessions.

One such example is Virachey National Park, located in Ratanakiri Province, where Oudum was found dead. The massive protected area, which is plagued by logging and threatened by mining, was stripped last year of 9,000 hectares for a rubber plantation. According to author and explorer, Greg McCann, Virachey has been largely abandoned by conservation groups even though it is home to "jaw-dropping" landscapes and may still be home to a number of important species like tigers.

















Related articles

Cambodia's largest lowland rainforest spared from new land concessions

(08/06/2012) Four economic land concessions have been cancelled in Cambodia's Prey Lang forest, known as the largest intact lowland forest in Southeast Asia, reports the Phnom Penh Post. The economic land concessions, totaling over 40,000 hectares, would have been used for rubber plantations.


Flouting moratorium, Cambodia approves four land concessions in protected areas

(06/27/2012) A month-and-a-half after Cambodian Prime Minister, Hun Sen, declared a moratorium on on new economic land concessions, the government has announced four new concessions, each located in protected areas. Economic land concessions have come under the microscope in Cambodia after large-scale protests by local people and the recent murder of forest activist Chut Wutty. Critics say the concessions, which last year totaled two million hectares (4.9 million acres) sold off to foreign corporations, have resulted in local land conflict and environmental degradation.


Over 700 people killed defending forest and land rights in past ten years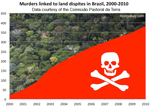 (06/19/2012) On May 24th, 2011, forest activist José Cláudio Ribeiro da Silva and his wife, Maria do Espírito Santo da Silva, were gunned down in an ambush in the Brazilian state of Pará. A longtime activist, José Cláudio Ribeiro da Silva had made a name for himself for openly criticizing illegal logging in the state which is rife with deforestation. The killers even cut off the ears of the da Silvas, a common practice of assassins in Brazil to prove to their employers that they had committed the deed. Less than a year before he was murdered, da Silva warned in a TEDx Talk, "I could get a bullet in my head at any moment...because I denounce the loggers and charcoal producers."


Cambodia suspends economic land concessions

(05/07/2012) Cambodian Prime Minister Hun Sen announced today that Cambodia would be temporarily suspending new economic land concessions and would revoke any concessions from companies involved in illegal logging, the evictions of locals or land-grabbing. The announcement comes two week after the high-profile death of local forest activist, Chut Wutty, who was shot and killed by military police while investigating illegal logging with two journalists.


Exploring Asia's lost world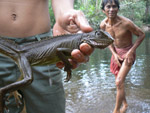 (05/03/2012) Abandoned by NGOs and the World Bank, carved out for rubber plantations and mining by the Cambodian government, spiraling into a chaos of poaching and illegal logging, and full of endangered species and never-explored places, Virachey National Park may be the world's greatest park that has been written off by the international community. But a new book by explorer and PhD student, Greg McCann, hopes to change that. Entitled Called Away by a Mountain Spirit: Journey to the Green Corridor, the book highlights expeditions by McCann into parts of Virachey that have rarely been seen by outsiders and have never been explored scientifically, including rare grasslands that once housed herds of Asian elephants, guar, and Sambar deer, before poachers drove them into hiding, and faraway mountains with rumors of tigers and mainland Javan rhinos.


Assassinated forest activist Chut Wutty: 'I want to see people live with freedom'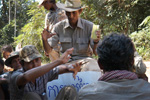 (05/02/2012) Chut Wutty, a dedicated Cambodian activist, was shot dead at an illegal logging site by military police, last Thursday. At the time Wutty was driving with two journalists, who wrote a shocking eye-witness account of his death, revealing that he was physically and verbally abused, then shot whilst trying to drive away, and left to die. His death reveals the brutal power of logging syndicates and companies, which are looting the country's natural wealth, and employing the military to silence their opponents.


Forest activist shot dead in Cambodia allegedly over photos of illegal logging

(04/26/2012) Chut Wutty, a prominent activist against illegal logging and deforestation, has been killed in the Koh Kong province of Cambodia. Wutty was shot dead at a military police checkpoint while traveling with two journalists with The Cambodia Daily. The journalists are currently being held for questioning by the military police.


Blood rosewood: Thailand and Cambodia team up to tackle illegal logging crisis and save lives

(04/11/2012) Cambodian and Thai officials have agreed to work together to combat illegal logging of rosewood and resulting violence between Cambodian loggers and Thai rangers, reports MCOT online news. Officials with both nations met on Tuesday and spent three hours discussing the issue.


Cambodia sells off national park for city-sized pleasure resorts

(03/19/2012) The Cambodian government has handed over nearly 20 percent of Botum Sakor National Park to a Chinese real-estate firm building a massive casino and resorts in the middle of pristine rainforest, reports Reuters. The city-sized resorts, costing $3.8 billion, will include a 64 kilometers highway, an airport, hotels, and golf courses. Botum Sakur is home to a number of endangered species including the pileated gibbon (Hylobates pileatus) and Asian elephant (Elephas maximus).






Original source:
http://news.mongabay.com/2012/0913-hance-oudom-murder.html
Copyright mongabay 1999-2014