Please consider the environment before printing | PDF version

Range extended for world's most mysterious gorilla
Jeremy Hance
mongabay.com
June 11, 2009

The Wildlife Conservation Society (WCS) announced yesterday the discovery of eastern lowland gorilla nests in an unexplored area of the Democratic Republic of Congo (DRC), expanding the range of this little-known subspecies by 30 miles (50 kilometers).

The eastern lowland gorilla, also known as Grauer's gorilla, is currently listed as Endangered in the IUCN Red List. Scientists estimate that the gorilla has as few as 8,000 individual left. Although closely related to mountain gorillas, the eastern lowland gorilla is the world's largest living primate, weighing over 500 pounds at maximum, and is endemic to the DRC.


| | |
| --- | --- |
| | The eastern lowland gorilla. Photo courtesy of WCS. |
Researchers surveyed the unexplored region in the DRC, known as Itombwe forest, during a calm period between the DRC's government and rebels group, which use Itombwe for its rich natural resources.

"Today's announcement that Grauer's gorillas inhabit forests in Itombwe more than 50 kilometers south of their previously known range gives hope for the survival of the subspecies and a renewed impetus for protecting this extraordinary biodiversity area in the Albertine Rift of Africa," said Dr. James Deutsch, Director of WCS's Africa Programs.

Along with evidence of the eastern lowland gorilla, researchers also discovered a new frog and toad species that are in the process of being described. In addition, the survey found indications that chimpanzees also had a larger range than previously believed.

"The findings of our survey will be important to conservation efforts for eastern lowland gorillas and their habitat, primarily because so little is known about this subspecies." said Dr. Andrew Plumptre, Director of the WCS's Albertine Rift Program. "In particular it will help us in the development of plans for the demarcation of boundaries for the Itombwe Reserve, which is in the process of being created."

The announcement of the eastern lowland gorilla's expanded range was made yesterday at the Gorilla Symposium, a conference organized by UNEP-Convention on Migratory Species of Wild Animals, the German Ministry for the Environment, the Ministry for Economic Cooperation and Development, and the Frankfurt Zoological Society at the Frankfurt Zoo in Germany.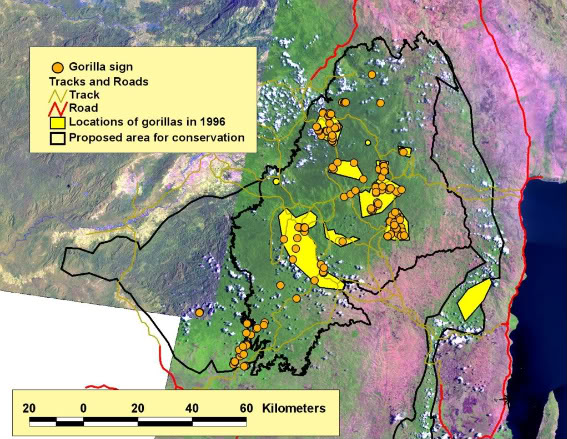 >

Gorilla sightings in the 2000s. Image courtesy of WCS.







Related articles

More than 300 gorillas butchered each year in the Republic of Congo

(03/27/2009) During 2008 and early 2009, Endangered Species International (ESI) conducted monitoring activities using undercover methods at key markets in the city of Pointe Noire, the second biggest city in Congo. Findings reveal that 95 percent of the illegal bushmeat sold originates from the Kouilou region about 100-150 km northwest to Pointe Noire where primary and unprotected rainforest still remains. The Kouilou region is one the last reservoirs of biodiversity and endangered animals in the area.


Mountain gorilla population in DR Congo increases 12.5%

(01/27/2009) The population of critically endangered mountain gorillas in Democratic Republic of Congo's Virunga National Park increased 12.5 percent in the past 16 months according to a census conducted by the Congolese Wildlife Authority (ICCN). 81 gorillas now live permanently in the park, up from 72 in August 2007.


Massive gorilla population discovered in the Congo

(08/05/2008) The world's known population of critically endangered western lowland gorillas has more than doubled following a new census that revealed some 125,000 in the Republic of Congo.




http://print.news.mongabay.com/2009/0611-hance_grauergorilla.html




---
Mongabay.com seeks to raise interest in and appreciation of wild lands and wildlife, while examining the impact of emerging trends in climate, technology, economics, and finance on conservation and development.

Copyright mongabay 2009